Giggles, Kids and Soccer Balls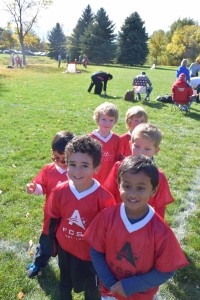 When my friend asked me to help her coach her son's U5 soccer team, I wasn't sure I wanted to make the commitment to go to soccer practice once a week and give up part of every Saturday for a few months. Then, she told me if we didn't coach they wouldn't be able to play this season – so immediately I was in. Hanging out with those kids two times a week was some of the most fun I've had in a long time. Every Wednesday at 4PM we met the kids to have soccer practice. Practice usually meant lots of giggles and games likes sharks and minnows, red light green light (which included a purple light to dance around your ball), and coaches playing keep away from the kids. Usually I participated in all of the games and I would dribble around the kids as they tried to kick my ball away. For my friend and I, this was always the highlight of every soccer practice. Being able to volunteer my time to help teach these kids the importance of a team sport, physical exercise, and having fun is what our VTO program is all about.
To end the season, we held a Pizza Party at Old Chicago's and each one of the kids received a trophy (if you want to see an adorable smile, give a kid an award for doing something good). Now that the season is over, the trophies have been handed out, and the team went undefeated – each one of the kids wants to play soccer again. The parents have already asked us to coach again next season, and a couple of the kids told us they only want to play if we're their coach again. I guess that means we better start putting together a plan for next season.