End of Year VTO Raffle – The winners!
Greystone has a volunteer time off (VTO) initiative that gives employees up to three paid days off a year to volunteer at an non-profit of their choosing.  Greystone also donates $50 to each non-profit for every day a staff member volunteered.  This past year, we also had an internal, friendly "competition" going where employees would be entered into a raffle for each day they volunteered and for each blog post they wrote about their experience.  The winner of the raffle would receive $500 for themselves and a $500 donation to the non-profit of their choice.  We had about one third of the staff volunteer, most of them multiple days, and a few of them wrote blogs about their experiences (which you might have read).  We had one employee with 5 entries, and some employees with just one.  It's a raffle, so it could go either way, no matter how many entries you had.  We held our raffle last week at our Q1 All Staff Summit.  Our winner was our Director of Business Relations, Gary Aronhalt.  The lucky winner will be using his winnings to put towards some of his 2016 goals, and has chosen to give his donation to Denver Rescue Mission.  This organization is close to Gary and is where he spent his time volunteering this past year.   Denver Rescue Mission  "meets the needs of those experiencing poverty and homelessness through emergency services, community outreach, long-term rehabilitation programs, transitional programs, and assistance for permanent housing." With this donation, they will be able to help 117 people at the shelter with a variety of programs and services.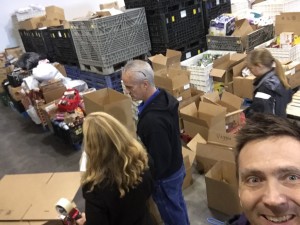 Even though Gary and Denver Rescue Mission are the "beneficiaries" of the raffle, each employee benefited greatly from giving back. I spearhead the VTO initiative, and it was great to hear about the different experiences everyone had.  For the volunteer opportunities I had with other employees, I got to see the outcome it had and how good it made them feel.  However, it's not just about us and the affect it had on our employees. It's about the various non-profits we volunteered at. From seniors to animals, to homeless youth and adults to trail maintenece with Colorado 14'ers, we were able to help make an impact and provide support. As cliché as it sounds (but it's true), everyone is a winner with this initiative…even though only one walks away with the big bucks…everyone comes out on top.