We are thrilled to announce that for the seventh time and for the third consecutive year the people of Greystone Technology have voted for us to win the Denver Post Top Workplace award!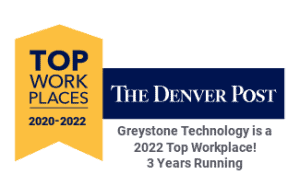 With new and unique challenges popping up every year it can be easy to become distracted. During this time we have not lost sight of our core values and we have shown up for each other as a team and in turn our clients.
We ask the people who work here to go above and beyond and to really dig deep and build relationships with their clients. In order to give them the ability to do that we know we have to create a culture that makes them feel supported.
We are humbled that the people who work here recognize our efforts to build an inclusive, supportive, and enjoyable company culture! We will take a moment to celebrate this achievement with each other, however, building the right culture is a journey and the work continues.
Interested in working here? Great news, we are hiring right now! Check out the available positions here on our careers page.
Congratulations to clients and colleagues who have also been named 2022 Top Workplaces: UC Health, Applewood Plumbing Heating & Electric, Custom Made Meals, and Footers Catering.