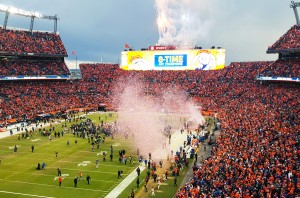 With the Broncos victory over the Patriots on Sunday, Greystone once again has won our football wager with
Continuum Managed Services
and their CEO, Michael George. Boston-based Continuum will provide funding for shelter and food for 20 people (10 people per point the Broncos won by) to the Denver Rescue Mission. In honor of the Broncos victory and Super Bowl trip, Greystone is excited to bring a team of volunteers to
Denver Rescue Mission
to serve the meals Continuum is providing.
These friendly wagers on Broncos/Patriots date back several years and at Michael's recommendation this year we shifted to include charitable causes. We were fortunate enough to have two chances this year to see the teams play and also fortunate here in Denver for two Broncos victories!
Greystone Technology provides IT and web services in Colorado with offices in Denver, Fort Collins and Boulder. Continuum Managed Services provides the top software and services platform for IT management to organizations like Greystone across the world. Both Greystone and Continuum work hard to make a strong community impact. Greystone has implemented a creative Volunteer Time Off program while Continuum focuses on supporting Veterans through their support of Continuum Veterans Foundation.