Modern-day businesses rely heavily on technology to increase efficiency and generate valuable insights through data. Your networks play a critical role in housing your information and enabling you to accomplish more than ever. As one of your most valuable assets, it's essential to prioritize the care and maintenance of your network to ensure its optimal performance.
Small businesses often assume that their in-house IT team is the only option for network management, but that's not necessarily the case. Managed IT and technology services offer expert support and maintenance for your network, freeing up your team to focus on your core business. By partnering with one of the best IT support companies in Denver, you can save your business money in the long run.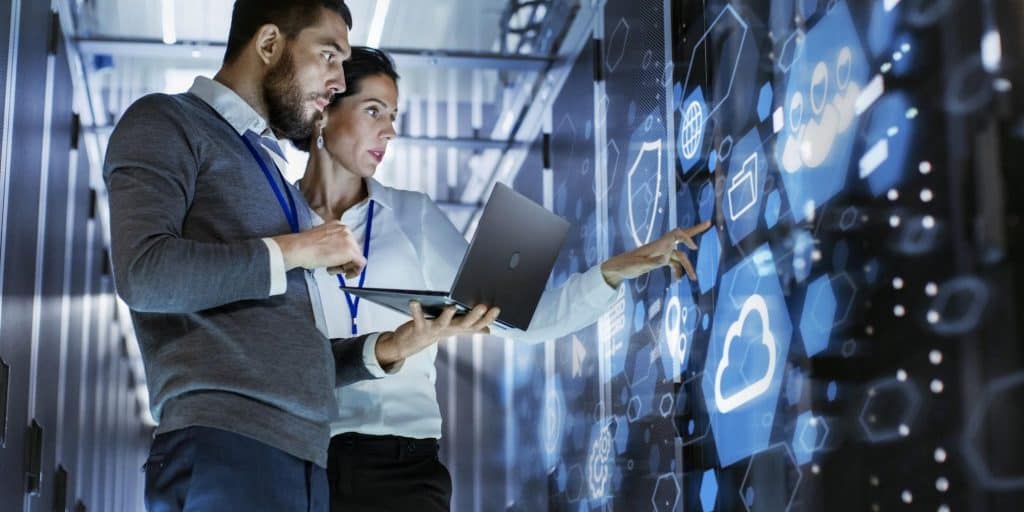 6 Reasons Managed IT Services are the Best Option for Small Businesses
Enhanced Focus on Core Business
Small businesses often struggle to balance their IT needs with other business priorities. Managed IT services can help alleviate this burden by providing expert technical support and freeing up time and resources for small business owners to focus on their core business functions. By outsourcing IT management, small businesses can reduce the risk of downtime or data breaches, which can significantly negatively impact productivity and profitability.
Small-business managed IT services provide advanced technology that may otherwise be cost-prohibitive for small businesses. With an enhanced focus on core business functions, small companies can achieve greater efficiency and competitiveness in today's fast-paced marketplace.
Customizations of Business Plans
One of the biggest advantages of managed IT services for small businesses is the ability to customize business plans. With managed IT services, small companies can work with experienced professionals to create a tailored plan that meets their needs and budgets. This level of customization ensures that small businesses only pay for the services they need rather than being locked into a one-size-fits-all solution.
Managed IT service providers help small businesses to stay up-to-date with the latest technology trends and advancements, ensuring they always utilize the most effective tools. Additionally, by outsourcing IT services to a third-party provider, small businesses can free up valuable time and resources that can be redirected toward core business activities. 
Access to Cutting-Edge Technology
For small businesses, having access to the latest and most advanced technology can be a challenge. However, managed IT for small business can access cutting-edge technology that they might not have been able to afford otherwise.
Managed IT services providers invest heavily in technology and infrastructure, meaning their clients can access state-of-the-art hardware and software without making significant investments. This allows small businesses to stay competitive in an increasingly digital world and use the latest tools and resources. Managed services for small business focus on their core business activities while leaving technology management to the experts.
Reduced Risk
Running a business can be challenging as it brings several risks and uncertainties. One of the prime concerns for businesses is compliance with government regulations, financial conditions, market conditions, and evolving technologies. Moreover, companies must ensure compliance with privacy laws and regulations from PCI DSS, ISO, and other organizations to maintain customer trust. However, even with the best compliance measures, a successful cyberattack can cause severe financial and reputational damage to your business, leading to a loss of profits and customers.
Hiring Managed Service Providers for small business can be a wise choice for your business to safeguard against risks and protect your assets. MSPs have an in-depth understanding of your industry's security challenges and regulations, enabling them to offer tailored solutions to meet your unique needs. They can keep your systems up-to-date with changing regulations while providing a dependable defense against security threats, giving you peace of mind and allowing you to devote your time and resources to other business priorities.
Possess Broad Expertise
Managed IT services can be a valuable asset for small businesses that may not have the internal resources to manage their IT needs. One key advantage of managed IT services is their broad expertise. Managed service providers (MSPs) typically have a team of specialized professionals with extensive knowledge in various areas of IT, from network security and data backup to software development and cloud computing. This level of expertise allows MSPs to provide comprehensive solutions to meet each client's unique needs.
Additionally, MSPs stay up-to-date with the latest technological advances and industry best practices, ensuring their clients receive the most efficient and effective IT solutions. Small businesses can leverage this expertise by partnering with a managed IT services provider to improve their operations, enhance productivity, and ultimately achieve their business goals.
Improved Data Security
Data security is a critical concern for small businesses and managed IT services can provide improved security measures to protect sensitive information. Managed IT service providers can implement various security protocols, such as firewalls, antivirus software, and data backup systems, to prevent cyber threats and minimize the risk of data breaches. They can also offer ongoing monitoring and maintenance to ensure that all security measures are up-to-date and effective.
By entrusting their IT needs to a reputable managed service provider, small businesses can gain peace of mind knowing that their data is secure and their operations are running smoothly. This can ultimately lead to increased productivity, improved customer satisfaction, and greater business success.
Why Managed IT Services at Greystone?
Small and medium-sized businesses can significantly enhance their competitiveness with Managed IT services. By leveraging these services, you can access top-quality equipment and receive the same level of experience and support that large corporations enjoy, all while maintaining a cost-effective approach.
Greystone Technology has been delivering top-notch system management services for over two decades. Our passion backs our unwavering commitment to providing world-class technology service. We use the latest and most advanced technology to monitor and manage your servers, routers, firewalls, workstations, and other network components. We understand that IT management can be a headache for small businesses. That's why we offer managed services that take the burden off your shoulders. Our Denver Managed Service Provider will ensure that your network runs smoothly and efficiently, delivering optimal ROI.