Our Denver based Tech Engineer, Kleyda Miller, has a passion for horses and being outdoors.  Below is her experience with our Volunteer Time Off (VTO) initiative with one organization in particular. 
In July of this year, I went with a group of Greystone employees to volunteer at Growing Colorado Kids (GCK).  This unique, grassroots organization offers a place of safety for refugee youth where their strength, knowledge, and confidence grows through hands-on learning, community service, and educational programming.   Greystone allows their employees up to three days off a year to volunteer at any organization of their choice.  This was my first volunteer time off (VTO) experience with Greystone and it led me to use my other two volunteer days at this organization.
On my first volunteer day, I was with a group of coworkers and we spent our time on the GCK farm helping in the garden with various tasks, pulling weeds, braiding garlic, and planting seeds.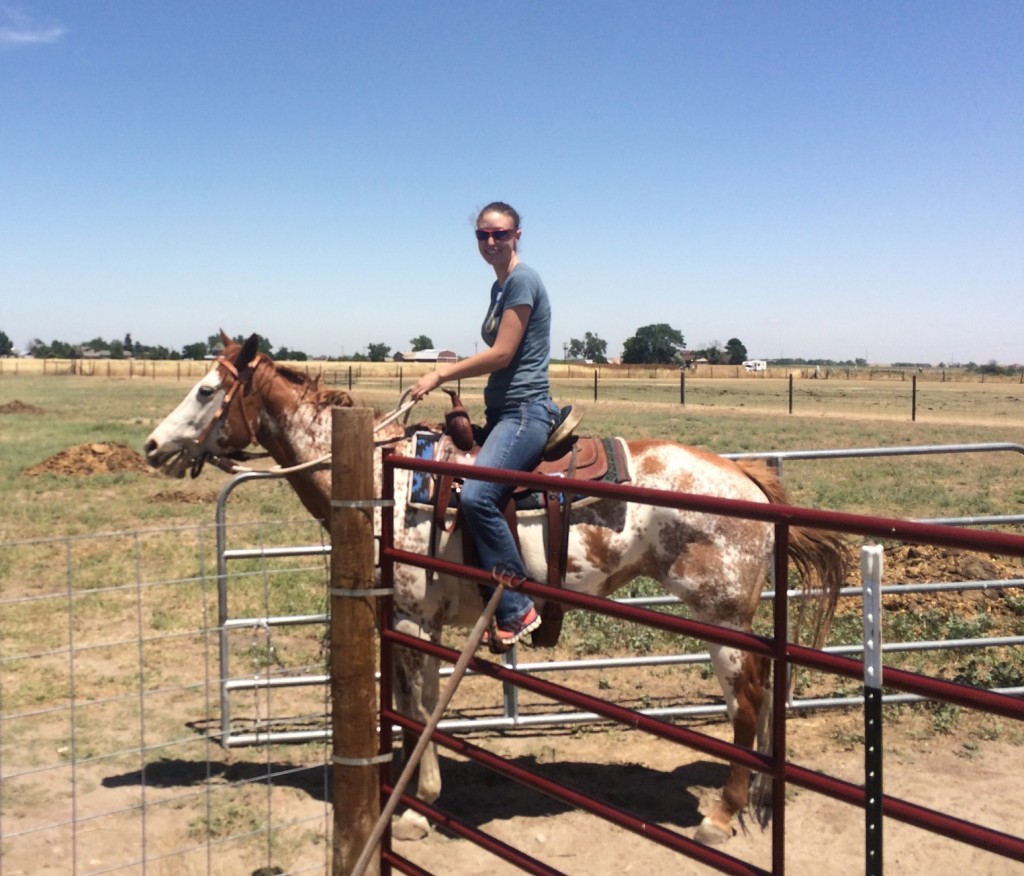 They gave us a tour of the farm that went beyond the garden and included animals (to learn more details about the group experience, check out this blog). They had chickens, bees, goats, a donkey, and a horse named Flo.  As soon as I saw Flo, I knew how I could contribute to GCK.  Denise, GCK's Executive Director, told us Flo's background and how they want to be able to help her.  I couldn't hold back my inner horse nerd, and I mentioned to Denise that I had been involved with horses for about 19 years. Denise didn't miss a beat and immediately wanted to soak up as much knowledge as she could from me and my experience with horses.
On that first day, I spent a lot of my time putting together a working saddle for Flo, which was a combination of parts from three saddles they had. I almost felt like MacGyver, but less awesome. Of course, once I got the saddle setup I had to see what kind of personality Flo had when she was being ridden. She has so much spunk and her own ideas of what she thinks should happen, but she did great! My remaining volunteer opportunities that I spent at GCK were spent working on little things with Flo like teaching her ground manners and how to walk respectfully. I would also give Denise 'horse homework' to continue the practice and training with Flo. Each time I came back, I could see the progress that had been made. It felt good to know that my passion for horses was useful for Denise, Flo, and everyone involved with GCK.
It was such an honor to help out and teach Denise and the kids how to understand Flo better. Growing Colorado Kids is such a wonderful place for kids to get away from the hustle and bustle of everyday life. I would recommend anyone to visit and help out around the farm. You are sure to meet great people and to have a fun time.