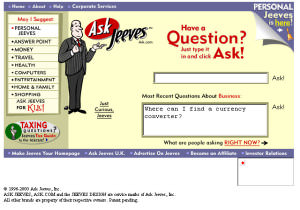 By Gary Aronhalt, Client Relationship Manager
Raise your hand if you remember the Internet BEFORE Google?  Remember AltaVista and Web Crawler? What about Ask Jeeves? Remember the days you had to use multiple search engines and then basically compare the results against one another?
Google saved us from ham-handed searches and hair-pulling results.
Google, as we know, has become the place to search and find anything you're looking for.
But, did you know that in addition to its all-powerful algorithm that can execute billions of search queries, Google Search has also a few specialized search features?
Here are 7 tips to help you tap into the full power of Google:
1) Flight Status
You no longer need to consult the airline's website to check flight status. Simply enter the flight name and number on the Google search page; and you'll get the departure and arrival times along with the current status of the flight.
2) World Time
If you need to know the current local time in any city across the globe, simply enter the name of the city with the word "time" for the answer.
3) Currency and Unit Converter
You can easily get the real time currency conversion rates from Google by simply entering the two currencies in the search box. For instance, when you enter "USD EURO" as the search string, the first search result will show how many Euros are in a dollar. You can also adjust the amount for any two currencies to get the equivalent in the other.
The same rule applies in unit conversions. For instance, the search result for entering the term "km mile" or "km in mile" will be the number of miles in a kilometer, or the number of kilometers in a mile, respectively.

4) Search File Types
If you are looking for a specific file type, such as a PowerPoint file to learn about electronics, the right search string to use would be "electronics filetype:ppt".
5) Definitions
If you need the correct definition for a particular word, such as cantankerous, simply use the search string "define:cantankerous".
6) Range Search 
When you need to know where you can get an item within a particular price range, you can enter the name of the item and the price range you are looking for. An example search string is "iPod $300…$400" for an iPod of between 300 and 400 dollars. You can also have search strings for numerical ranges of numbers or years.
7) Related Terms
If you are not very familiar with technical jargon, Google allows you to search for keywords or terms that are similar or synonymous to the one you are using. For instance, when you enter "Linux ~ Tutorial", the results will include Linux tutorials, guides, how to articles and manuals.
How you discovered any special tips or tricks for using Google? Or, are you still asking Jeeves?