A guest post by Tim Hurley, Technical Engineer…
By the time this article reaches your inboxes, I will no longer be "the new guy."
Hopefully.
I started at Greystone mid-May, working with Bobby Sowder as his Technical Engineer. I've gotten to know most of our clients over the past four weeks, and Young Americans Center For Financial Education has been one of the most exciting to work with in my short time.
Young Americans hosts a number different resources for young people to learn about finance and business, including Young Americans Bank and Young Ameritowne.
If you're unfamiliar, the bank is for young people under the age of twenty-two and provides the same services as a normal bank. All of the teller counters even have push-out stools for smaller children to stand on, which is a great touch. Customers can apply for a credit card and even get their own debit card.
Young Ameritowne has relationships with real businesses like UPS and King Soopers which help to replicate the businesses found in many communities across the country and provide groups of children the opportunity to have "jobs" at these different businesses. These groups create their own micro-economy, learning about running their own businesses and spending money responsibly.
The software running Young Ameritowne was outdated, running on old, desktop computers, and didn't provide the kind of flexibility and scalability the staff needed to keep growing. That's where Greystone showed our true colors, supporting and growing our client's business with technology.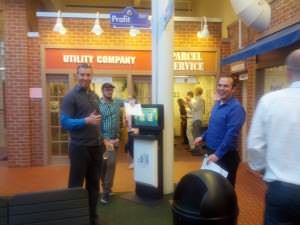 The Greystone web team designed beautiful new web portals for the businesses represented in the town, and designed them to work on touchscreen tablets. The websites deliver a scalable solution for Young Americans' other "townes," allowing access to this powerful tool anywhere.
I was privileged to work with Bobby setting up the wireless infrastructure, connecting all the tablets and new desktops to the new web portals, and deploying the tablets in the businesses. It was a great experience working alongside the Young Americans staff helping them realize the dream of a new, digital Young Ameritowne experience.
Our staff was invited to "alpha-test" the new portal with the Young Americans staff which was a truly enjoyable experience. The web team feverishly worked on squashing bugs in the website code, while our two staffs were able to eat, drink, laugh, and learn a little bit about what each other do.
This experience demonstrated the real value we provide each of our clients at Greystone. Not only do we provide great technology consulting and a personal touch, we roll up our sleeves and dig in with our clients, helping each realize their potential. In my short time here, I understand more what the "partnership" that we have with our clients is and means.
It isn't something we take for granted, and I am looking forward to rolling up my sleeves again and again.