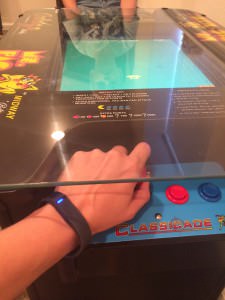 At the beginning of July, Greystone embarked upon a new adventure… our first ever Fitness Challenge!
Since we work in an industry where sitting is prevalent, and sedentariness is the norm, we decided to initiate a challenge to get Greystoners moving.  We offered to provide FitBits for any employees interested and had an overwhelming participation rate of more than 90%!
The advent of wearable, activity monitoring technology is a very cool development, and it has been fun to use it.  FitBits are a wearable device that uses an accelerometer and some advanced algorithms to calculate activity.  It provides a number of steps per day, distance traveled, number of "active minutes," and if you choose to wear it while you sleep, it will evaluate your quality of rest.  We're mainly focusing on number of steps.
Running through to the end of August, there are two layers to the Fitness Challenge. The first is our weekly challenges, where prizes are being given for the top three spots each week (aka "The Podium").   So far, we've focused on total number of steps with individuals and by pairing people up into teams of two.  We'll also have weekly challenges pitting teams against the runaway train in first place, randomly picking winners from other categories than "steps" (FitBit focuses a lot on steps, but there's other cool info it provides, too) and any other zaniness we can dream up.
The second layer to the Fitness Challenge is the overall prize.  Taking the combined steps from the entire length of the challenge, we'll declare overall winners, too.
Our prizes have ranged from basic gift cards to popular web sites, to offerings from local businesses.  And we continue to work on putting together our prize packages for the overall winners.
In next month's newsletter, we'll definitely be announcing those winners!  Stay tuned and get active!