A holiday post by Molly Hazelrig, SEO Storyteller for Greystone Web Services
Greystone Holiday Party 2013
'Twas the night of the Greystone party. There was a bit of chill in the air.
People were checked in. And we had sweet hotel robes to wear!
The hotel lobby was peppered with Greystoners and mates.
But I crept in solo. Everyone else had Christmas dates.
Lindsey H, Trevor, Bonnie. They were all having drinky-poos.
So I grabbed a stool and thought, "What have I got to lose?"
I drank my favorite kind of beer, a Belgian White Ale.
But then Kai came a callin' and I had to bail.
Kai and her friend, Chris, we had a couple more brews.
And then we skipped along to The Lobby. A little giddy with booze.
All the women were stunning and the boys looked OK, too.
All dolled up and fancified. It was one dapper crew.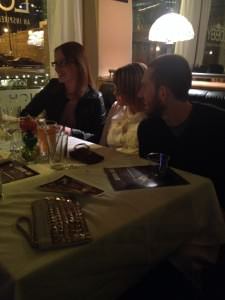 The trivia was hard, I'm not going to lie.
But I got one answer. That thing about that one guy.
The Fellowship of the Nerds killed and those guys won.
And then there was a dance off and folks got their groove on.
Breakfast for dinner? That's how we roll.
Eggs, taters and bacon. It's good for your soul.
Peter made a toast and gave us a pretty cool memento.
Nothing rhymes with that word except maybe pimento.
The rest is a bit blurry so not much more to share.
I know that I was tucked in, though, by Jenna with care.
It was a great holiday party and I had a super fun night.
As J.J. from Good Times would say, it was "Dyno-mite!"