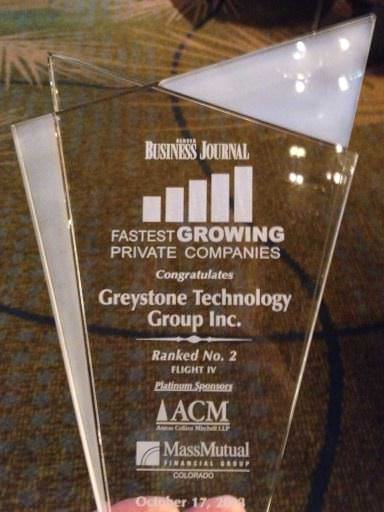 Greystone was honored by the Denver Business Journal this month as one of the fastest growing private companies.  They presented our award at a nice ceremony and gave us our very own trophy. More notably, they profiled us in a special section of the paper and have been complimentary of our company culture, vision, and story.  We are very thankful.
The DBJ recognition comes on the heels of our placement on the Inc. 5000 list, the Top 250 Private Companies list by Cobiz Magazine,  as well as several other publications rewarding organizational growth.  All of a sudden we have gained a new level of visibility in the local and national business community with the most notable point being our rapid increase in size.  These awards are a great reflection of the hard work of a lot of people, but we also understand that growth alone does not warrant celebration.
I'd like to invite you inside our walls a bit to understand how we are approaching this recognition within our team.
Growth as a byproduct of success, not a leading indicator
We have never been focused on being the "fastest growing company" because growth itself doesn't equate to success.  We are working aggressively to avoid letting our focus inadvertently shift to the simple economics of getting bigger.  Our primary vision at Greystone is to perfect the technology service experience by strategically breaking the rules.  This is our key measure of success.  We want growth as a result of being successful in our vision – not the other way around.
A BETTER experience, not a "bigger" experience
Given that our vision includes continual improvement in the way we serve clients, we seek responsible growth and I'm really excited about what that has brought to us.  That said, we are in new territory in our industry in the way that we are intent on keeping personal connection at the forefront of our service model even as we expand our team and our client base.  Currently our internal excitement is driven by the quality and improvement the growth is brining.
What it really means to us
Don't get me wrong –  we are thrilled with the growth we have achieved and the fact that 2013 is right on track to continue the upward trajectory.  We have added key staff, new skill sets, a less stressful on-call rotation for our service team, new innovations, new relationships, and a new dimension to our culture.  We are also putting more weight on the foundation we have built and the service framework we've developed which are proving sturdy.  We also have more opportunities for feedback and critique which are vital.
In the end, awards are fleeting.  They are a fantastic honor for where we are in this moment.  But in 2015, no one will care about how fast we grew in 2012.  You'll care about how good we are at what we do for you on that day.
Here's to another year of continued growth… in quality.