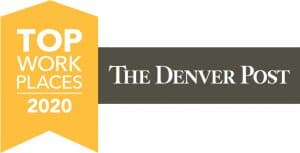 We are excited to announce that for the fifth time our employees have voted for Greystone Technology to be named a Denver Post Top Workplace!  Our team is the core of what Greystone Technolgy is as a company, and we truly have the best people in the industry.
We ask the people who work here to go above and beyond and to really dig deep and build relationships with their clients. In order to give them the ability to do that we know we have to create a culture that makes them feel supported.
We are honored that our employees recognize our efforts to create that environment, and we will take a moment to celebrate this award with them.
We also recognize that being a top workplace is a journey and never a destination.  Our intention to build and cultivate our team will continue.
Congrats to clients and colleagues who also achieved this exciting honor, including American Indian College Fund, Applewood Plumbing And Heating, Footers Catering, SEMA Construction, and UCHealth.
To join us our "Boss or Babysitter?" online event and learn more about our workplace processes, click here
To see the full list of this year's Top Workplaces click here.