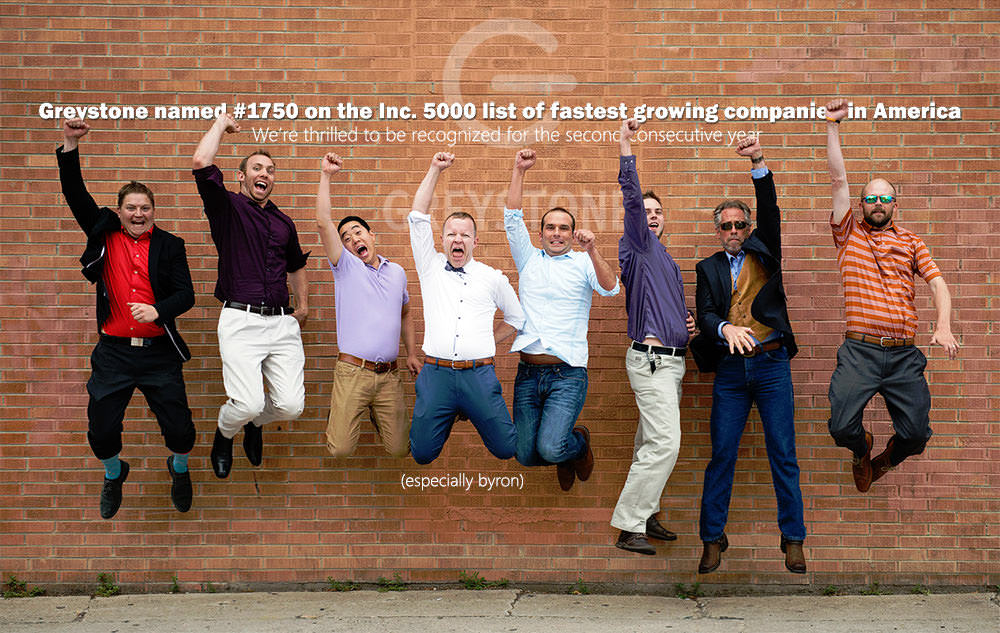 Denver, CO, August 22, 2014 – For the second year in a row, Inc. magazine ranked Greystone Technology Group on its list of the fastest-growing private companies in America. This year Greystone was ranked at number 1750, up from 2028 last year, with three-year sales growth of 238%.
"Our growth is born out of this really wonderful cycle," says Dave Stokes, Director of Managed Services. "Individuals come into Greystone and are engaged and inspired by our past successes. Then, they work with passion and develop a profound connection to our clients and to us, which in turn drives further innovation and success. Sharing in this personal and professional growth of our people is an incredibly rewarding aspect of our growth as a company."
This annual list represents the most comprehensive look at the most important segment of the economy—America's independent entrepreneurs. Companies such as Yelp, Pandora, Timberland, Dell, Domino's Pizza, LinkedIn, Zillow, and many other well-known names gained early exposure as members of the Inc. 500|5000.
The 2014 Inc. 5000, unveiled online at Inc.com, is the most competitive crop in the list's history. The average company on the list achieved a mind-boggling three-year growth of 516%. The Inc. 5000's aggregate revenue is $211 billion, generating 505,000 jobs over the past three years.
"What surprises me, even though I know it's coming, is the sheer variety of the paths our entrepreneurs take to success, thematically reflecting how our economy has evolved," says Inc. President and Editor-In-Chief Eric Schurenberg. "This year there are far more social media and far fewer computer hardware businesses than there were, say, six years ago. But what doesn't change is the fearsome creativity unleashed by American entrepreneurship."
"We were incredibly proud of making the Inc. 5000 list for the first time last year," states Greystone President, Peter Melby. "But making it two years in a row is a testament to both the incredible team we've assembled and to the fact that we absolutely think differently about how we can impact our clients. And this approach is working."
Complete results of the Inc. 5000 can be found at www.inc.com/inc5000.