We are excited to announce our new investment partner, New Charter Technologies, a portfolio company of Palo Alto-based, equity firm, Oval Partners. New Charter brings a unique investment structure that supports a strong future for Greystone's clients, team members, and mission to deliver The Most Effective IT. Period.  As with all New Charter portfolio companies, Greystone will continue to operate independently, bolstered by a best-in-class support structure. Co-founders, Peter Melby and Jesse Armstrong remain in their positions and retain ownership.
Greystone co-founder and President, Jesse Armstrong:

New Charter brings the next level of partnership that is only available to best-in-class IT service providers. Our official partnership with New Charter began this past summer, but our relationships within the group have been growing for the better part of a decade.
We're dedicated to building a caliber of business that the IT industry hasn't yet seen. There are many reasons that much of the IT industry has struggled to meet the needs of the market. Much of it can be traced back to financial models that don't build for the future. We have the best team in the industry and now we have the ideal investment partner as well. The unique investment model solves the inherent challenge of scaling our organization without losing what makes us Greystone.
Greystone co-founder and CEO, Peter Melby:
Let's be honest, mergers, acquisitions, and investments can cause more harm than good in such a relationship-oriented industry. We needed the exact right situation to continue to build a stronger Greystone without risking the pitfalls that we've seen so often. While many companies look to an investment as an exit plan, for us this is an entrance into bigger opportunity. We are excited to have a stronger foundation for our clients and team members as we continue to grow with greater stability.
In 2016 we partnered with Cypress Growth Capital to accelerate our operational maturity. The results have been clearly visible to Greystone's employees and clients as we've built out more sophisticated capabilities, deeper employment culture, and added support teams to reinforce our personalized services. We will be forever thankful to Ed Mello, Bart Goodwin, and the Cypress team for their faith and guidance in taking these next steps with New Charter.
New Charter Technologies CEO, Mitch Morgan:
I've known Peter, Jesse, and Greystone long enough to know exactly how much value they bring to the New Charter family. New Charter companies operate separately while creating opportunity to lean on each others' strengths. The capabilities, market presence, and reputation that Greystone brings is a tremendous addition. Peter, Jesse, and the team have made Greystone a leader in the technology community in Denver and throughout our industry. The track record of success is just getting started.
About the investment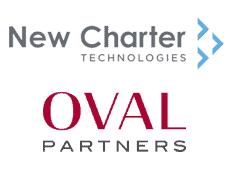 New Charter Technologies offers founders of high performing IT service providers a uniquely compelling opportunity to re-invest alongside Oval Partners in the business's continued growth. Currently, the platform has added six industry-leading, Best-in-Class (top quartile) MSPs, with more to come. Features of this unique partnership include:
Owners re-invest into New Charter in a single class of shares alongside Oval's investment
Owners continue to run their respective businesses and become a part of New Charter's leadership team tasked with building their business to achieve standing as a leading national MSP
New Charter Technologies' operating model includes strategic leadership and a highly successful capital provider with permanent capital
According to John Knoll, Co-Founder and Managing Director at Oval, "Adding another leading MSP boasting strong management and exceptional customer franchise further validates the value proposition of New Charter for successful MSP founders. We believe this solidifies our position as the platform of choice for best in class MSPs in the North American market."
The Greystone Technology team is excited for a bigger future.