We are thrilled to announce that for the eighth time the people of Greystone Technology have voted for us to win the Denver Post Top Workplace award!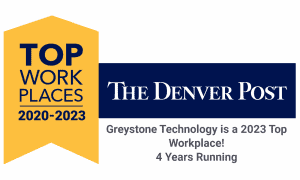 Each year brings new and unique problems and it can be easy to become distracted by whatever the new challenge of the day or year are. During the past year we have not lost sight of our core values and we have shown up for each other as a team and in turn our clients.
IT as an industry is known for having high rates of burn out and often is a demanding profession. On top of this we ask the people who work here to go above and beyond in creating relationships with our clients. In order to support them in that we strive to create and maintain a culture that supports their day to day roles, gives them opportunities to grow, and ultimately makes working in a demanding role easier to do!
We are humbled that the people who work here recognize our efforts to build an inclusive, supportive, and enjoyable company culture! We will take a moment to celebrate this achievement with each other, however, building the right culture is a journey and the work continues.
Interested in working here? Great news, we are hiring right now! Check out the available positions here on our careers page.
Congratulations to clients and colleagues who have also been named 2023 Top Workplaces: UC Health, Applewood Plumbing Heating & Electric, Core Consultants, CRS Insurance Brokerage, American Indian College Fund, and Footers Catering.