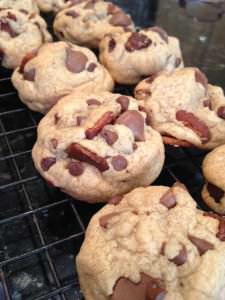 There's a tradition here for the employees at Greystone, a deeply loved and appreciated tradition, that on your birthday you choose which cookies Amanda Melby (Web Project Manager and President Peter Melby's better half) will bake just for you.  As your birthday approaches, you get a reminder email with a "menu" of choices and you respond with your selection.  Then, as close to your birthday as the work-week schedule allows,  you get a special, carefully wrapped package of the cookies of choice (and the rest of the office gets a few, too!).
It's just one small aspect of our unique culture that makes Greystone an amazing place to work. We recently asked Amanda to share about the history behind this tradition…
According to Wikipedia, the informal term "Koekie" was given to small cake-like discs, initially made to test cake recipes ("Keok" meaning cake in Dutch).
But. That's not what you mean, when you ask about the history of cookies, is it?
I may not Dutch, but I have always loved to bake and cook. When I was very young, I made lunches for my siblings and myself, and eventually my dad. I don't remember how old I was when I began cooking dinner for our family, but I can tell you that it was a task I enjoyed so much, I did it as often as I was allowed. We always ate dinner together, and being able to create a meal that we all met over was a not a chore, but something I coveted.
After graduating high school, I worked full-time and attended community college in the evenings. Upon moving out of my parents' home, I found the transition to single-life cooking difficult, so, I turned to baking cookies for my friends when finances allowed. I have always believed in a well-stocked baking shelf, so baking supplies sometimes came before more sustaining food in those tighter years.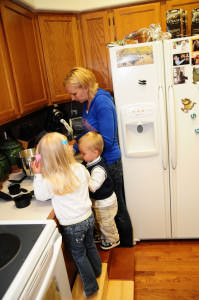 Baking for friends eventually gave way to baking for my coworkers; we spent a lot more time together, and we shared an all-too-common adversary. Many of my jobs in those days were for companies who cared very little for employees, which created a tight-knit group of unhappy people. I found that baking for those people brought us all a positive experience to share.
When Peter and I were married, I moved to Denver and Greystone began to grow. Since I worked for a much smaller company, I started bugging Peter about letting me bake for Greystone employees. Soon enough, there were enough to bake for regularly and I was happy to provide! (And that grew into our tradition of each employee getting the cookies of their choice for their birthday!)
Having children altered my availability in the kitchen quite a bit, but with help I make the time. I find baking to be a relaxing task: I enjoy following a recipe here and there, but I don't usually make things the same way each time. (Examples: "The Inception Cookie" and the "Bacon Chocolate Chip")
Even though the circumstances have changed over the years, by baking for the rest of the staff at Greystone I still feel like I'm helping to bring people together in a positive way!
And dear reader… If you're thinking to yourself, "How can I partake of these wondrous creations?" then there are a couple of avenues… One, become a Greystone employee!  Or two, be sure to come to our annual Greystone BBQ, where Amanda shares her culinary wizardry!