One of the initiatives I love here at Greystone is volunteer time off (VTO).  Staff members are given up to 3 days of leave to volunteer at organizations of their choice.  It's one of my duties to spearhead this initiative. It can be hard for some staff to take a whole day off to volunteer, so I took it upon myself to organize an opportunity for just a few hours at a time. When I started looking into opportunities, Urban Peak jumped to the forefront.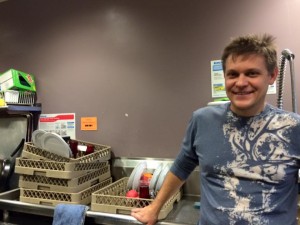 Urban Peak helps youth ages 15-24 experiencing homelessness or at risk of becoming homeless.  One of the services they need volunteers for is serving breakfast and I thought this would be a great fit for a lot of us at Greystone.
A group of nine of us signed up, coordinated dates and decided on menus.  Working with that many schedules was one tricky task!  We were able to cook breakfast for two mornings, provide food for each breakfast, and donate socks and gloves to the clients of Urban Peak-the youth.
Our first morning was scheduled to be the night after "Snowpocalypse," which fortunately for us, was anything but.  Everyone showed up and got to work right away, teaming up to make eggs, serve food, and do dishes.  I served breakfast with Taylor, one of our Service Coordinators. We got to talk to the people coming in and watch how they came in and played music, others circled the room and caught up with everyone, and some just sat quietly and ate their breakfast.  We served about 50-60 youth on this day.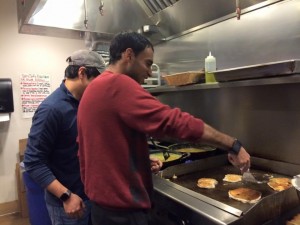 The second morning, we were like a well-oiled machine.  We knew our way around the kitchen, timing on food, when the bigger "rushes" were, and we knew what we were all comfortable doing. The staff let us know that this week was slow and had 25-30 youth come in that morning. Each time, the staff at Urban Peak were welcoming, and appreciated of our services and supplies. One of the Urban Peak staff members told us that this breakfast is the only hot meal that most of the youth will have that day.
I knew we would all have a good time giving back, but I didn't think about how good it would be for us staff to get together in a new environment. Some of our staff members volunteering work off site or at another location, so not everyone knew each other well. It was also the first time that some staff members made pancakes, or the first time they cracked eggs since they were a kid. It turned out to be a great team bu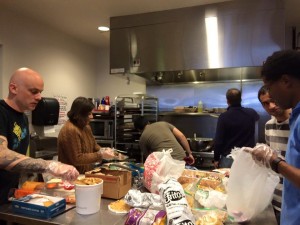 ilding activity that made everyone feel good and work on valuable skills.
Sean Thomas felt that "it was great making warm food for the youth, especially on the first snowy morning.  It was cold outside, and hot breakfast is good on cold mornings, even more so if you don't have a home."
Kai Medders thoughts on volunteering were that "breakfast at Urban Peak was a blast.  The staff was so helpful and friendly, and it was one of those great volunteering experiences where you can see and feel the impact you're making immediately.  Plus, working together in a kitchen at 7 AM to make food for almost 50+ people is a great way to build teamwork (or die trying)."
Nick Hemmert told me that "it was a privilege to be able to go over to Urban Peak and cook for the youth.  Not only did we get to put a lot of smiles on people's faces, we got to connect with other members of our community.  In a world of always being busy, texting, and going from this place to the next, it was an honor to get our hands dirty making food, washing dishes, and serving others.  Really appreciate the opportunity to do this!"
Needless to say, it was a great experience.