What happens to the unwanted llamas, horses, and goats of the world? They might end up at their forever home, The Edwards Foundation for Rescued Animals. This foundation is a no-kill animal shelter and provides a sanctuary for these animals. Some of the reasons the animals join the foundation include: being too old, being part of an old exhibit at the Denver Zoo, or the previous owners were unable to take care of them. As you can imagine, the care and feeding of these creatures require a lot of time, money, and manpower.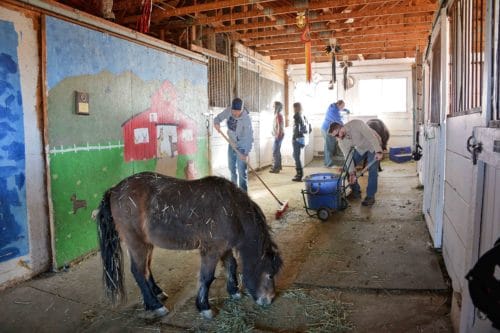 For Greystone's Volunteer Time Off (VTO) initiative in early March, a few team members went to The Edwards Foundation in Parker to spend their time helping out on the farm. John and Lynda Edwards are the owners of the property and run the foundation. They are incredibly kind, and it was so apparent that they adore providing and caring for these animals. We were quickly acquainted with the animals and proceeded to feed them. The feeding process involved getting hay bales and making them available for the horses, donkeys, llamas, and goats. We also fed the chickens and ducks on the property.
Once they were fed, we cleaned their stalls in the barn and took some of them on a walk down the street. Some of the llamas had their own idea about where we were going, but in the end, they just needed a bit of coaxing. We even had a goat join on this outing. We think he might not be aware that he's a goat because he fit right in with the horses and kept up with them!
After exercising them, we leveled the horse stalls so the animals could have a better foundation to stand on. We had to remove the rubber mats, clean the stall, and dump in pea gravel to help level and cushion the ground. We also groomed and watered the horses, then helped with other tasks on the property. Even though most of the animals are disabled, they were eager for attention and weren't afraid to approach us for some love.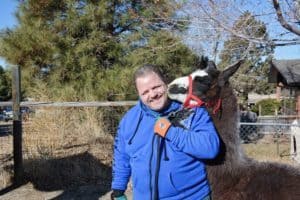 It was a fulfilling experience, and all of us had a wonderful time giving back to this cause. Jay, one of my colleagues that participated, shared "Anyone
who likes animals should volunteer there at least once." If you are interested in volunteering or supporting this foundation financially, you can find more information on next steps here.