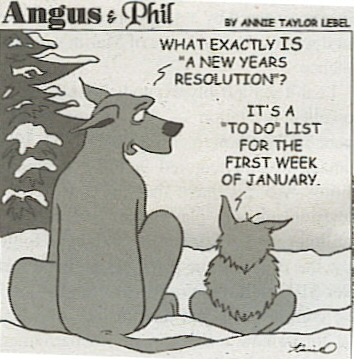 Each year, all of us make a new year's resolution in the hopes of bettering our lives and ourselves. Have you ever set a new year's resolution and actually stuck to it? Nope. Me neither.
Failing on these resolutions are not mere disappointments, but can create emotional wounds that impact our psychological well-being. What is meant to strengthen our self-esteem and improve our lives leaves us feeling  lazy, weak, or incapable of change and feeling even worse about ourselves than before we started.
Research has shown that lack of willpower or strength of character have nothing to do with our inability to commit to a life change. Instead, we neglect to plan how we will achieve our goals. Here are a few tips to keep in mind when trying to fulfill your 2016 resolution:
Keep your goal list shorter than your child's Santa list.
Strive for measurable goals – how will you know if you're successful?
Don't set yourself up for failure. Go after attainable goals.
Invest time to plan how you will achieve your goals in the new year.
If you haven't thought of a new year's resolution yet, it's not too late to make a change. Here are a few ideas for your 2016 New Year's Resolution:
I will try to love myself like Kanye loves himself and believe in myself like Kanye believes in himself
I will try to figure out why I really need nine e-mail addresses
I will eat more pizza because pizza
I will try to drive closer to the speed limit
I will think of a password other than "password" or "hello"
I will update my software regularly
I will cleanup and declutter my desktop
Regardless of what your resolution is, we hope your holiday season was magical and you have a Happy New Year!