I.T. managers at Continuum's Navigate 2017 conference in Las Vegas will hear about Greystone's unique approach to hiring and management in Peter Melby's talk, "Boss or Babysitter?".  Greystone has reinvented traditional HR on the way to being one of Colorado's top workplaces. Peter has used the challenges from Greystone's notable growth to build a simple, consistent system that brings employee engagement and performance together.  The results are the primary reason Peter is recognized as one of Colorado's top CEOs and was given Denver Business Journal's 40 Under 40 distinction.  Greystone was recently named to the Inc 5000 list for the fifth consecutive year. Navigate 2017 runs October 2-5 at the Cosmopolitan Las Vegas and is currently sold out.
Navigate 2017 Details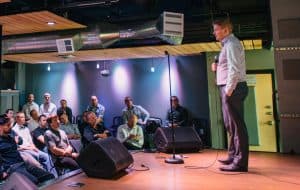 Boss or Babysitter? Lessons in building an accountable, driven, and loyal team
Cosmopolitan Las Vegas – October 3rd – 11:15 AM
Peter Melby, CEO of Greystone Technology, shares his experience going from micromanaging mediocre performers to building a team of 85+ self-accountable, driven team members. Greystone credits this shift as the biggest key in propelling the home-grown MSP to $10M in annual revenue. Learn Greystone's radically unique, yet simple, people management strategy that has become their biggest competitive advantage and hear from Greystone's team members directly about their experience. Get the team members your competitors are fighting for and get them doing the right things without nagging.
Learn Greystone's simple processes for…
Creating deep employee loyalty without overpaying for it
Building self-accountability and direction into roles
Inspiring breakthroughs with mediocre performers
Navigate 2017 is the user conference for Continuum Managed Services.
Speaking Inquiries
Peter speaks nationally to share insights in gaining competitive advantage through talent acquisition and engagement.  He also delivers presentations on the downfall of the IT department and the evolving technology landscape.  Speaking inquiries should be directed to Abigail Adams: aadams@greystonetech.com.